Welcome to Kenilworth Croquet Club
Kenilworth Croquet Club is a friendly club with a good atmosphere and excellent facilities. It is a section of the Kenilworth Tennis, Squash and Croquet Club, and benefits from the excellent facilities and car parking at the site.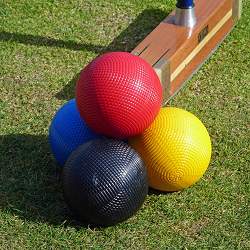 The Club has two good quality lawns and a practice lawn in an attractive setting on the edge of Kenilworth, Warwickshire and a few minutes from Warwick University.
The area covered by the club includes Kenilworth, Leamington, Warwick and South Coventry.
Both Association Croquet and Golf Croquet are played.
Contacts
Click here for a list of Croquet Club contacts.
Membership
We welcome enquiries from new and experienced players and visits from anyone interested in playing the game of croquet.
Coaching
Croquet is a challenging game to get into but the enjoyment and rewards that the game offers soon become apparent.
Coaching courses are available and are seen as a Club priority, and we do our best to teach and encourage beginners to enjoy the pleasure and fun in playing the game.
Excellent coaching hints are available on the Oxford Croquet web site.
Matches and Tournaments
The Club is in the West Midlands Federations and both league and friendly matches take place as well as competitions for a variety of club championships.
Our aim is to give every member of the Club, whatever his or her level, an opportunity to sample competitive play.
Corporate Event or Parties
The Club is available for hire for Corporate and Private Croquet Parties on certain weekday evenings during June, July and August.
Contact John Copping 01926 403966 or for further details.