Squash at KLT&SC
Founded as a tennis club in Kenilworth in 1901, KLT&SC moved to its present location in Crackley Lane in 1962.
Please visit the Club "Home page" for details of the general amenities at the club.
Photo below shows the Club's five England international players, Sarah Jane Perry, Chris Fuller, Geoff Redfern, Steve Townsend and Chloe Pearson.
Facilities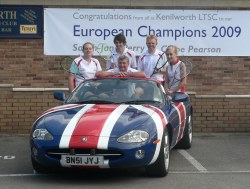 We have five courts which are used for both squash and racketball. All the courts are well maintained and are properly heated. Spectator viewing is possible from a balcony above the courts.
Both ladies' and men's changing rooms have saunas.
The players' lounge bar has recently been refurbished, and squash members and guests need little encouragement to use it. It is expertly managed by Richard Levitt.
The Squash Section
KLT&SC is a Members Club. It is owned and run by the members for the members. The day-to-day running of the club is delegated by members to a General Committee that is accountable to members at the AGM. Membership of this committee and all other sub-committees is voluntary.
Click here for a list of Squash section contacts.
There is plenty of social play with club nights for squash and racketball. Visit the "What's on" link for dates and times.
We run internal leagues for squash and racketball, have a number of teams in the Warwickshire leagues in ladies' and men's squash and racketball, and hold competitions throughout the season fror fun and the more competitive.
Coaching is available for all standards, for both adults and juniors. For further details, click on the "Coaching" and "Junior squash" links.
Members are welcome to bring visitors (for a small visitor's fee). For details, click on the "Booking Courts/ Playing" link.
At Kenilworth you are assured of a friendly reception and a range of playing partners to match your standard to help you to enjoy your squash.
Squash Handbook
Click here to download the Squash section handbook for 2012 (PDF)
Welcome to Squash at KLT&SC - enjoy your game!