Tennis at KLT&SC
Founded as a Tennis Club in Kenilworth in 1901, KLT&SC moved to its present location in Crackley Lane in 1962. Please visit the Club "Home page" for details of the general amenities at the club.
Facilities
The club has nine tennis courts - six are artificial grass and the other three are macadam courts.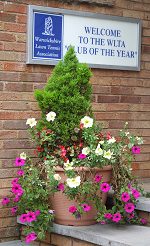 Floodlighting has been installed on all tarmac courts (including the Junior Court) and four artificial grass courts. All the courts have been refurbished or re-laid recently.
The Tennis Section
KLT&SC is a Members Club. It is owned and run by the members for the members. The day-to-day running of the club is delegated by members to a General Committee that is accountable to members at the AGM.
Social tennis?
If you're looking to play tennis socially, then this is the ideal club for you. Come along to a club session - you do not need to bring a partner; just bring yourself, a racket and a tube of balls!
Just starting out or returning to tennis?
Sometimes it can be daunting beginning a new sport or returning after a break. Our "Rusty Rackets" sessions help to ease you back into the game - without too much embarassment! Come along and try it.
Experienced player?
If you're looking for some competition, there are plenty of opportunities to test your game. Plus, we're always looking for new members to join our club teams. Keep an eye on the website or noticeboards, or speak to one of the tennis contacts (see below).
Junior section (ages 5 to 18)
We have a thriving junior section with coaching sessions and our extremely popular Junior Night on Friday evening. Click on the "Junior Tennis" link for more information.
Coaching
Our resident coaching team, headed by James Roe, offers a variety of coaching sessions for all levels. Click on the "Coaching" link for more information. James can be contacted on 07958-278304
Click here to download a timetable of all regular tennis sessions (PDF file).
Playing rules
Click here for a copy of the tennis playing rules. (PDF file)
Visitors
We allow a maximum of six guests per member per year, with no more than three visits per guest. Check the signing in procedure in the Clubhouse.
Contacts
Click here for a list of Tennis Section contacts.
Click here for a full list of tennis committee members.