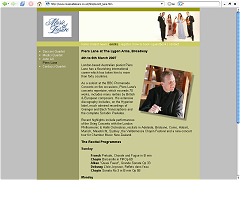 A "Music at Leisure" webpage
Music at Leisure website
Wordfair have just developed a website for Music at Leisure, a company that offers a series of top quality classical music weekend breaks.
From initial concept to going "live", Wordfair managed the entire process and continue to update the website regularly.
Leonard Pearcey, Director of Music at Leisure, says,
"Our website was designed and set up for us by Keith Roberts, who is a thorough professional in this field. We were very happy with the trouble-free development process; Keith listened to our wishes and gave us the website we wanted. Keith's continuing personal attention and support is keeping the website up to date and relevant.

Our website is not only giving the latest news and information to existing guests but is already generating new enquiries. We are very pleased too with our site's ranking with the major search engines.

Thanks to Keith, we feel we have moved into the 21st century, and have an excellent new cost-effective way of telling people about us."
To visit the Music at Leisure website, click here or on the webpage image above.
To visit our latest website for Lambourn B&B, please click here.
Click here for more details of our popular, affordable, easy to understand, web design packages.